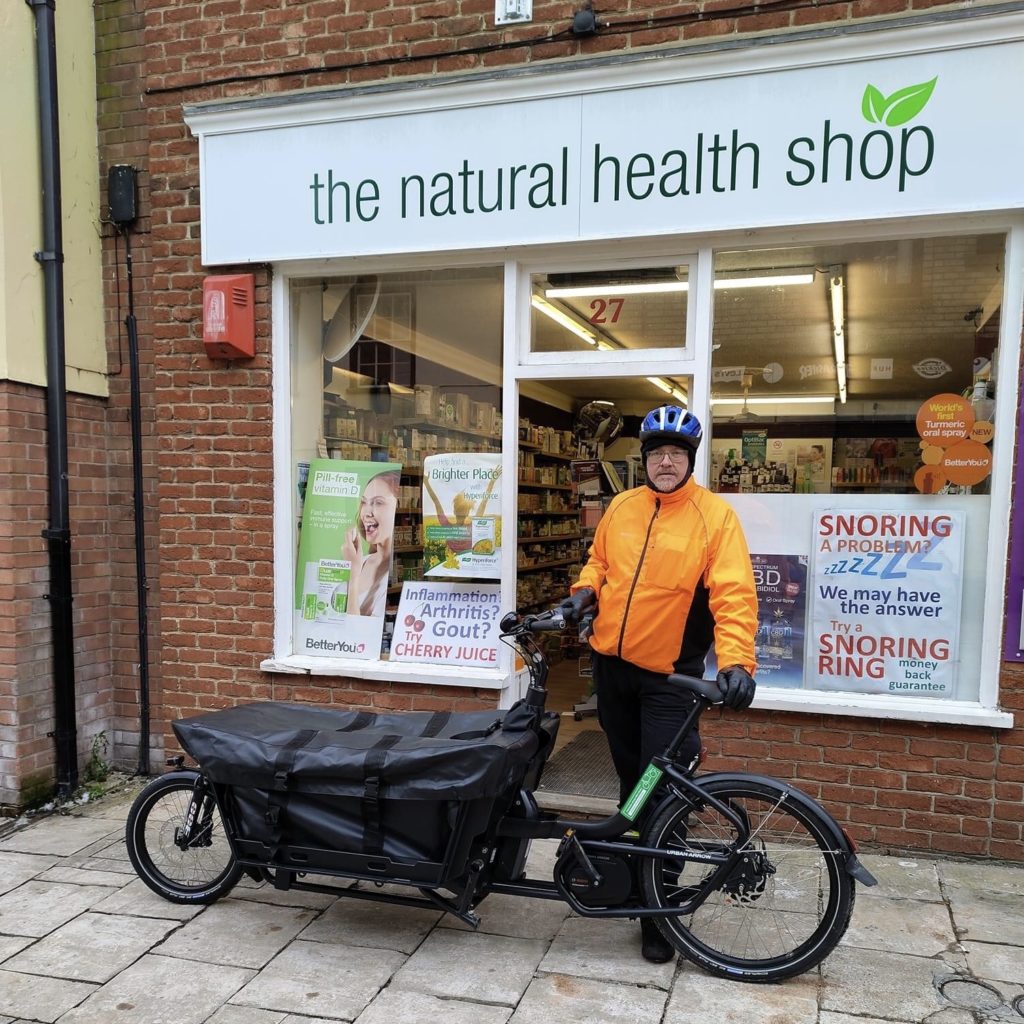 The Colchester E-Cargo Project was set up as a Community project with the support of en-form in February 2021.
They deliver and collect from the following shops and businesses in Colchester, and across the following postcodes
CO1, CO2, CO3, CO4, CO5, CO6, CO7
Delivery and collection charges start from just £3.
en-form is also raising funds to provide a free delivery and collection service for local Community groups and their clients such as The Colchester Food Bank, The Munch Club, The Essex Free school Uniform Exchange and The Boaz Project.
An Ethical Life – Zero waste refill shop based at the Hythe.
Colcheco – Zero Waste refill shop on Layer Road.
Colchester Brewery – Range of local beers.
Colchester Food Co-op – A vegetarian ethical and refill shop based in Queen Street Colchester.
Food without Fuss – Delicious, healthy, plant based food available for collection or local delivery – based in Brightlingsea, Essex and working with Together We Grow at Highwoods.
Home Kitchen – A range of mindfulness, self-care and fun crafts for all ages. Stock up the freezer with nutritious handmade dining, all of which is gluten free and dairy free, and as many of our long term customers will know is filled with vegetables, fruits and goodness. Based in Crouch Street, Colchester.
Natural Health Shop – Provides a wide range of natural products including quality vitamin and mineral supplements, herbal and homeopathic remedies, natural body care products, wholefood drinks and sports nutrition.
Red Lion Books – Independent book shop based at High Street, Colchester.
Three Wise Monkeys – Restaurant and takeaway service based in Colchester.
Victoria Yum – Cake, brownies, cookies and muffins.
Wildflower Style Boutique – Fashion.
Wivenhoe Butchers – Outdoor reared, grass-fed, ethical, local meats brought to Wivenhoe. Homemade sausages, charcuterie, pies, freezer food and more.
Wivenhoe Kitchen – We make seasonal plant-based vegan meals, side dishes, desserts and sweet treats.
They also carry out 'click and collect' pick ups from any other local business that offers the service. Customers just order as usual and book a collection with the Colchester E-Cargo Bike Project .
Contact
Lee Pugh Chief Pilot –
hello@ecargobikecolchester.com
07852 958953
Follow on Facebook